10 Scrap Quilts You Can Make With Your Stash
By Kelly Young, Scrappy Improv Quilting
Scraps, scraps, and more scraps! I don't know very many quilters who aren't bursting at the seams with them, and sometimes it's hard to figure out what to do with all of them. That's where structured improvisation comes in—this technique allows you to play with your scraps using improvisational, or unplanned, piecing. I'll show you how to do it, and it's quicker and easier than you think! Then, you'll use your new improv "fabric" with other solids or prints, following a step-by-step, traditional quilt pattern. The result is a one-of-a-kind scrap masterpiece that is uniquely yours.
All of the designs in in my book, Scrappy Improv Quilting, are mini quilts, which makes them perfect for dipping your toes into improv piecing if you're apprehensive, and they're great projects for beginning quilters as well. No small project can be that scary, right?  Check out some of the projects inside below!
Scrap Quilts Found in Scrappy Improv Quilting: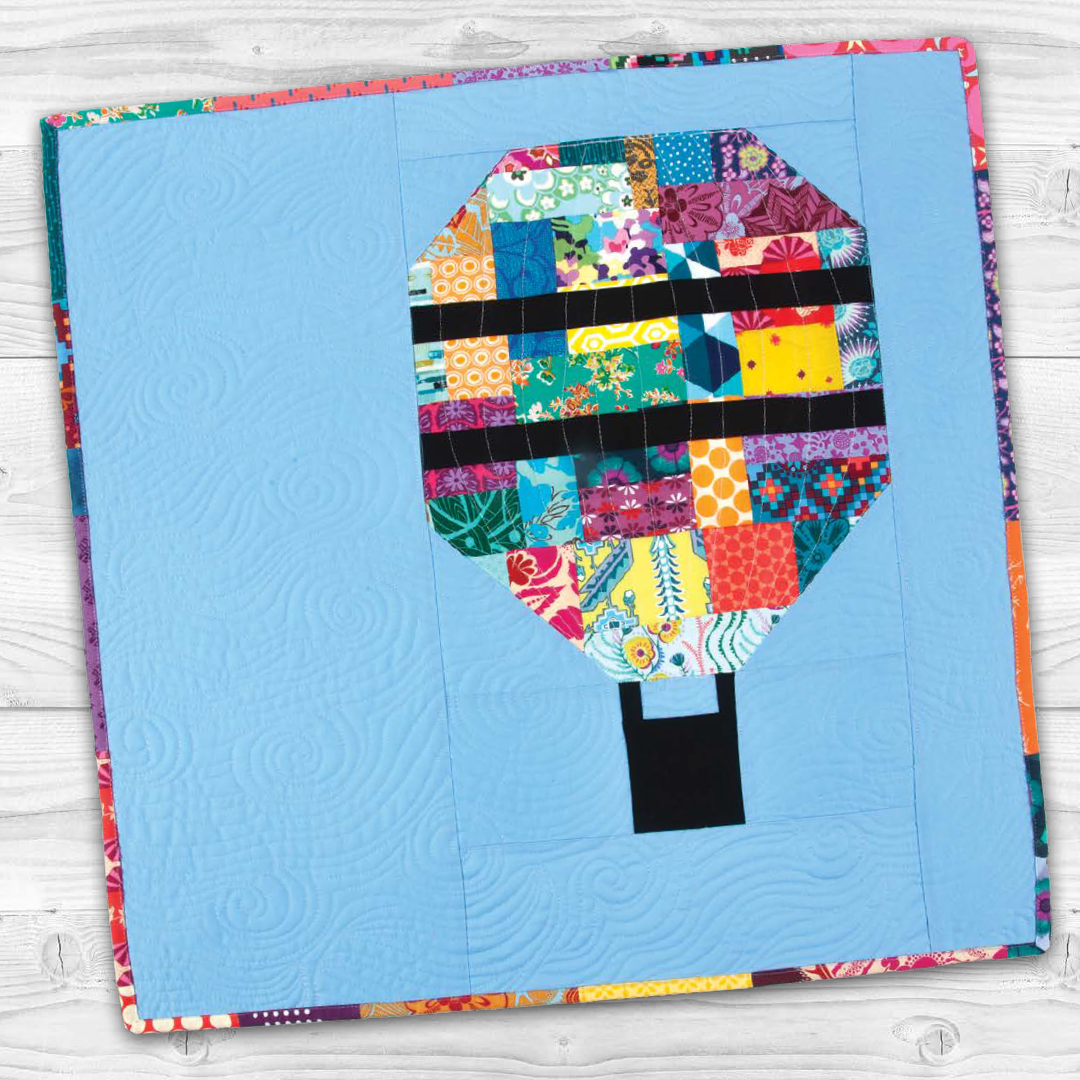 Up, Up, and Away
Unlike seeing airplanes or helicopters, spotting a hot air balloon in the sky is a rare treat. The improv in this hot air balloon covers a relatively small area, but it really packs a punch. Because the improv is concentrated in one spot, it is a great place to showcase a handful of your most special scraps. The blue background fabric is the vibrant sky blue of a cloudless day, and it really shows off the scraps used in the balloon.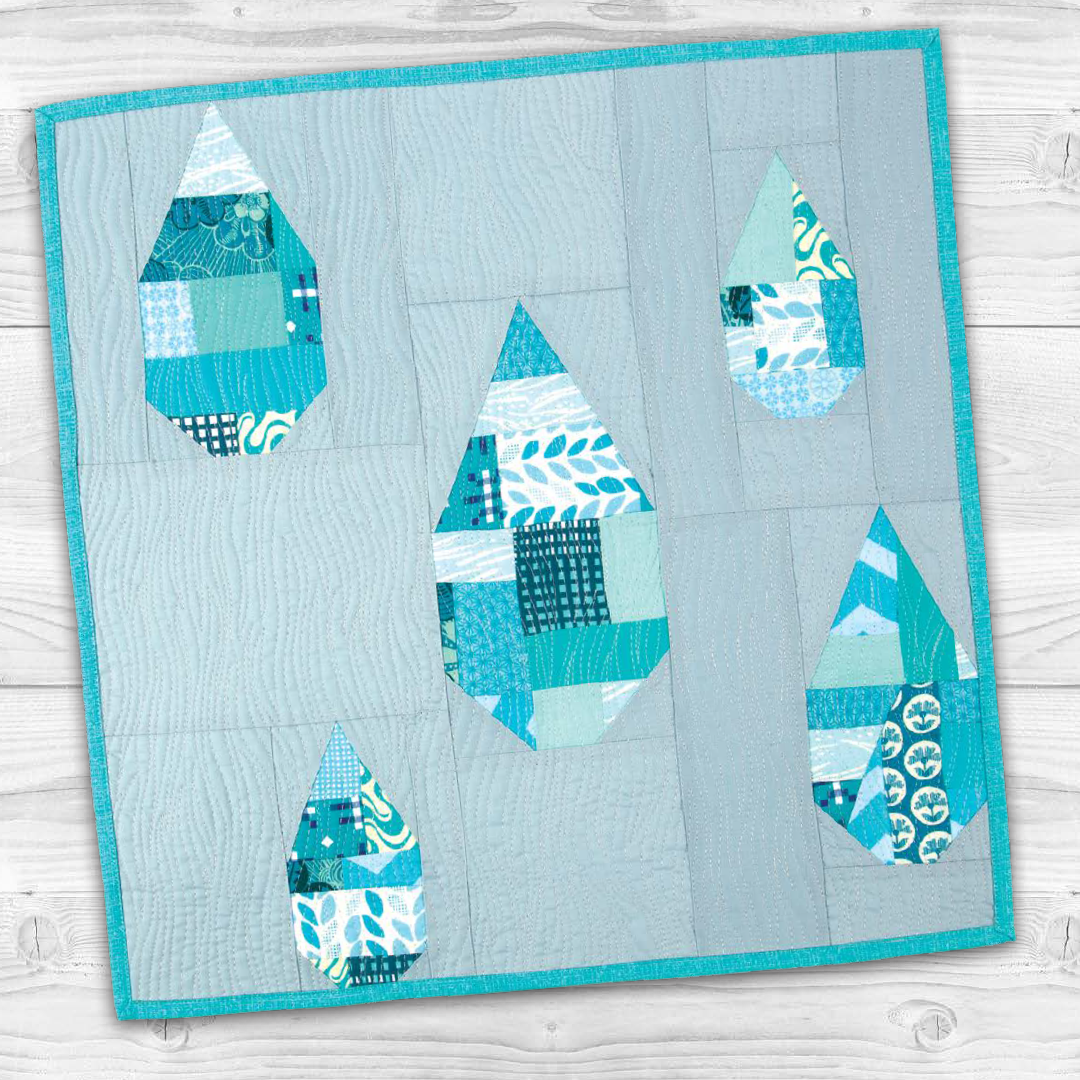 Downpour
There is beauty to be found in plants and flowers when the weather is sunny, but I find soaking rain to be beautiful as well. The raindrops in the Downpour quilt sparkle with aqua scraps. Most of the scraps are in light and medium shades, but just a few darker scraps are thrown in for depth. The background is a super soft blue-gray — a spot-on match for a cloudy day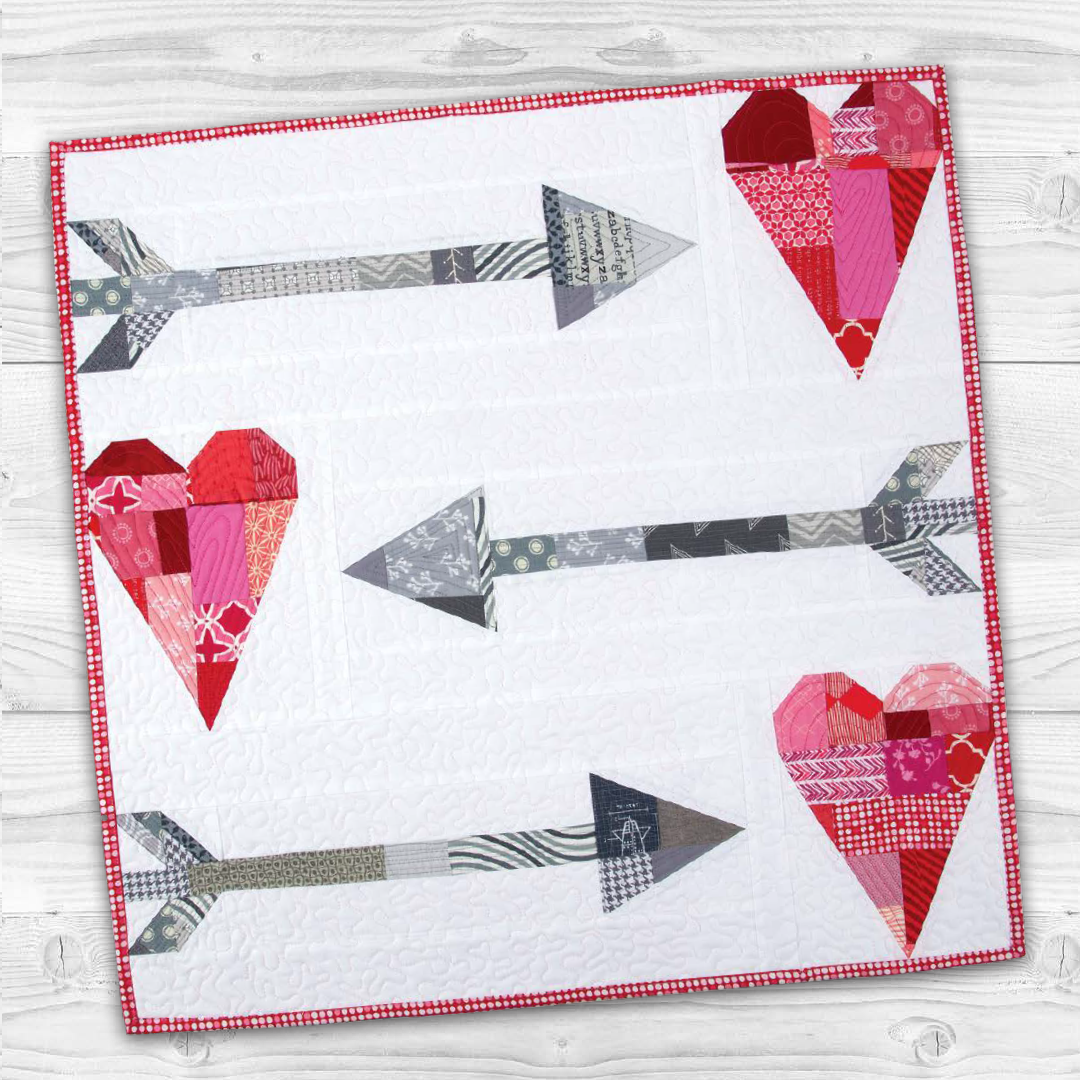 Heartstruck
The fun hearts and arrows in this quilt are perfect for a festive Valentine's Day table setting. The hearts in this quilt are sewn with a mix of reds and pinks, and they serve as a great contrast for the many shades of gray in the arrows. A bright white background keeps this quilt light and airy while allowing the reds and pinks to jump right out.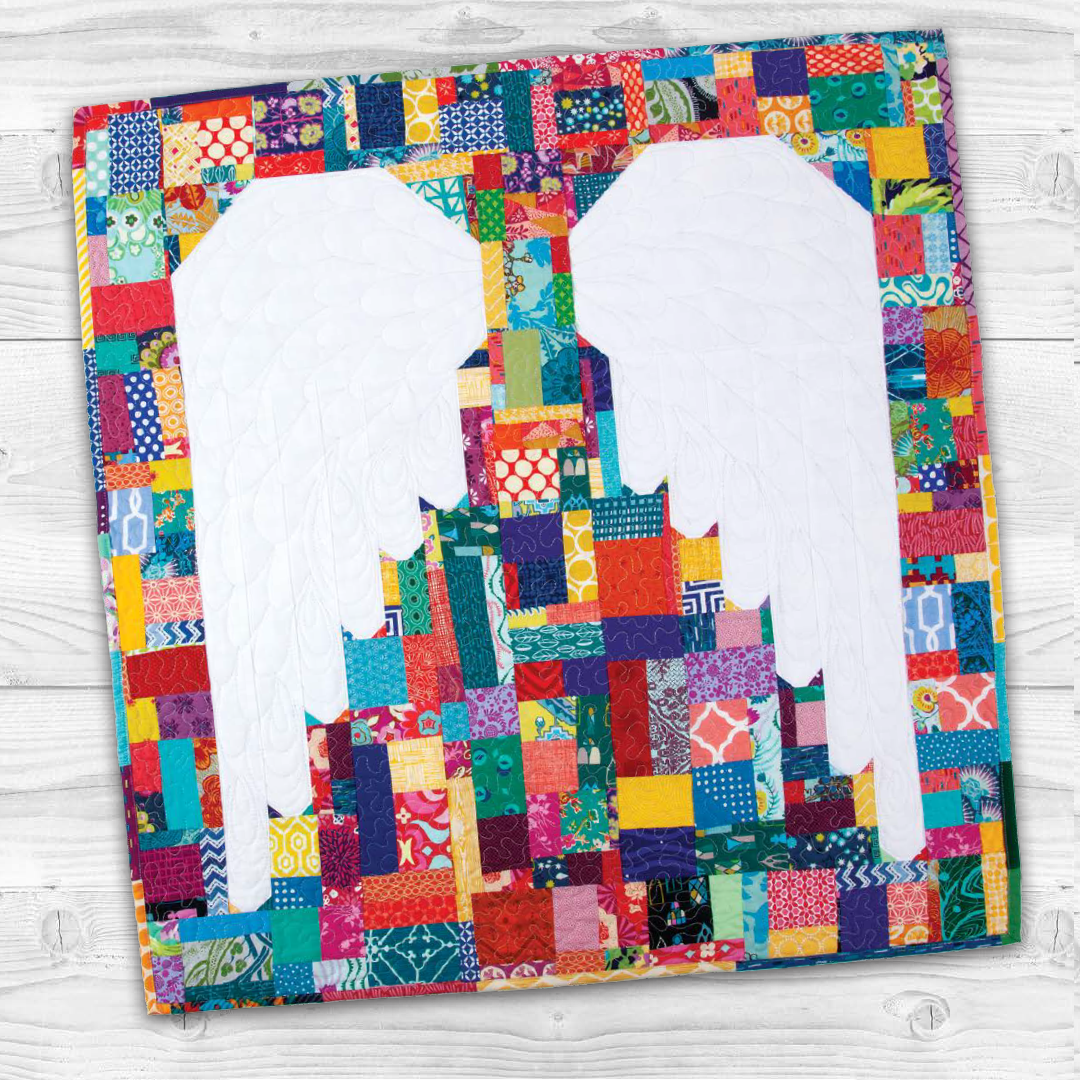 Cherub Wings
Cherubs are often depicted in art as beautiful children with wings, and this pair of wings is sure to make a lovely statement wherever it is displayed. Create a scrappy binding to make the binding blend into the quilt. The improv background in this quilt uses every color in the rainbow as well as multi-colored fabrics that can sometimes be difficult to mix with other scraps.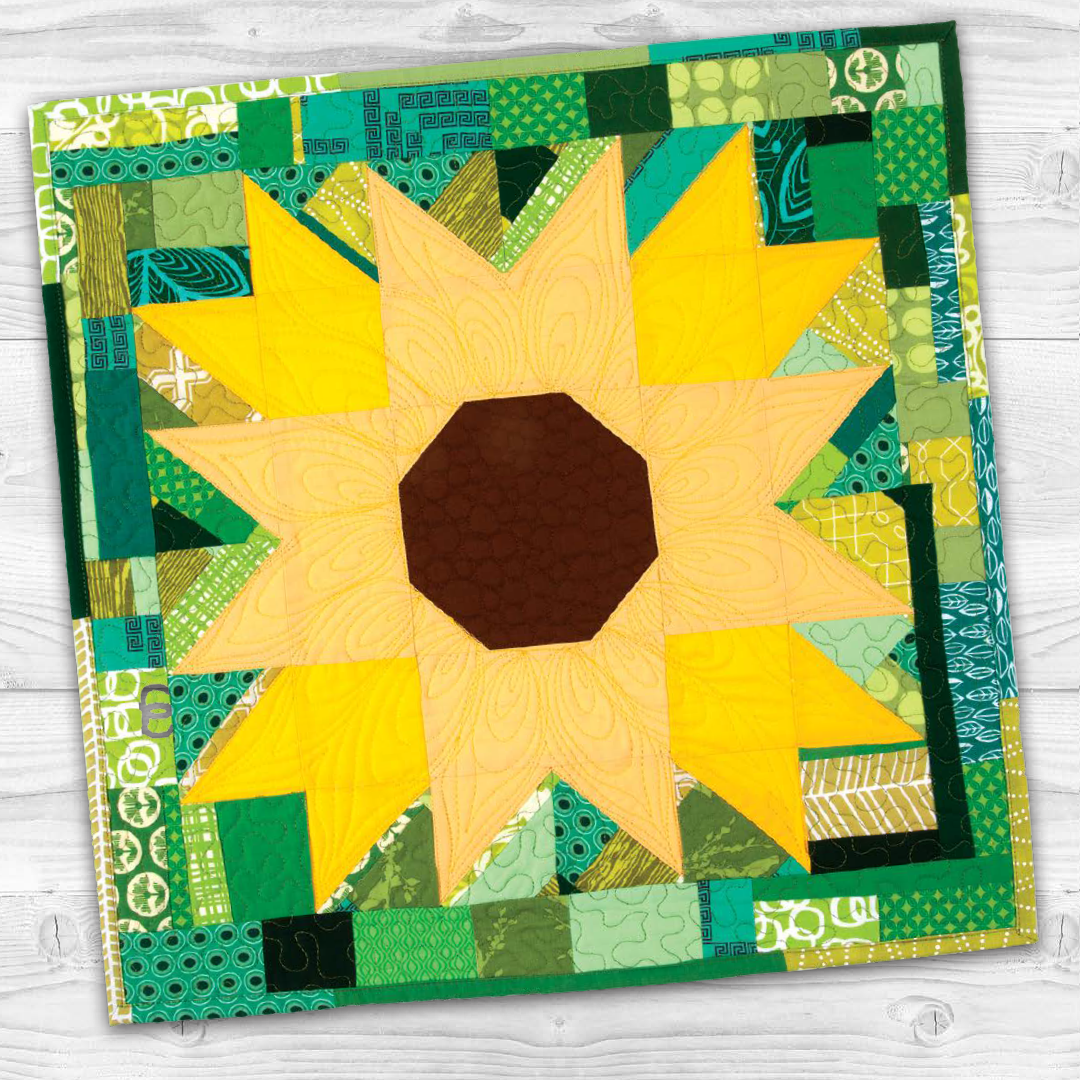 Face the Sun
Where I live, there is a local park that plants a giant field of sunflowers every year, and in late summer, the whole city waits for them to bloom. Two shades of yellow give the petals in this sunflower some dimension, and the flower really pops against the improv piecing. With so many shades of green in the background, it's easy to imagine this sunflower standing tall in a field.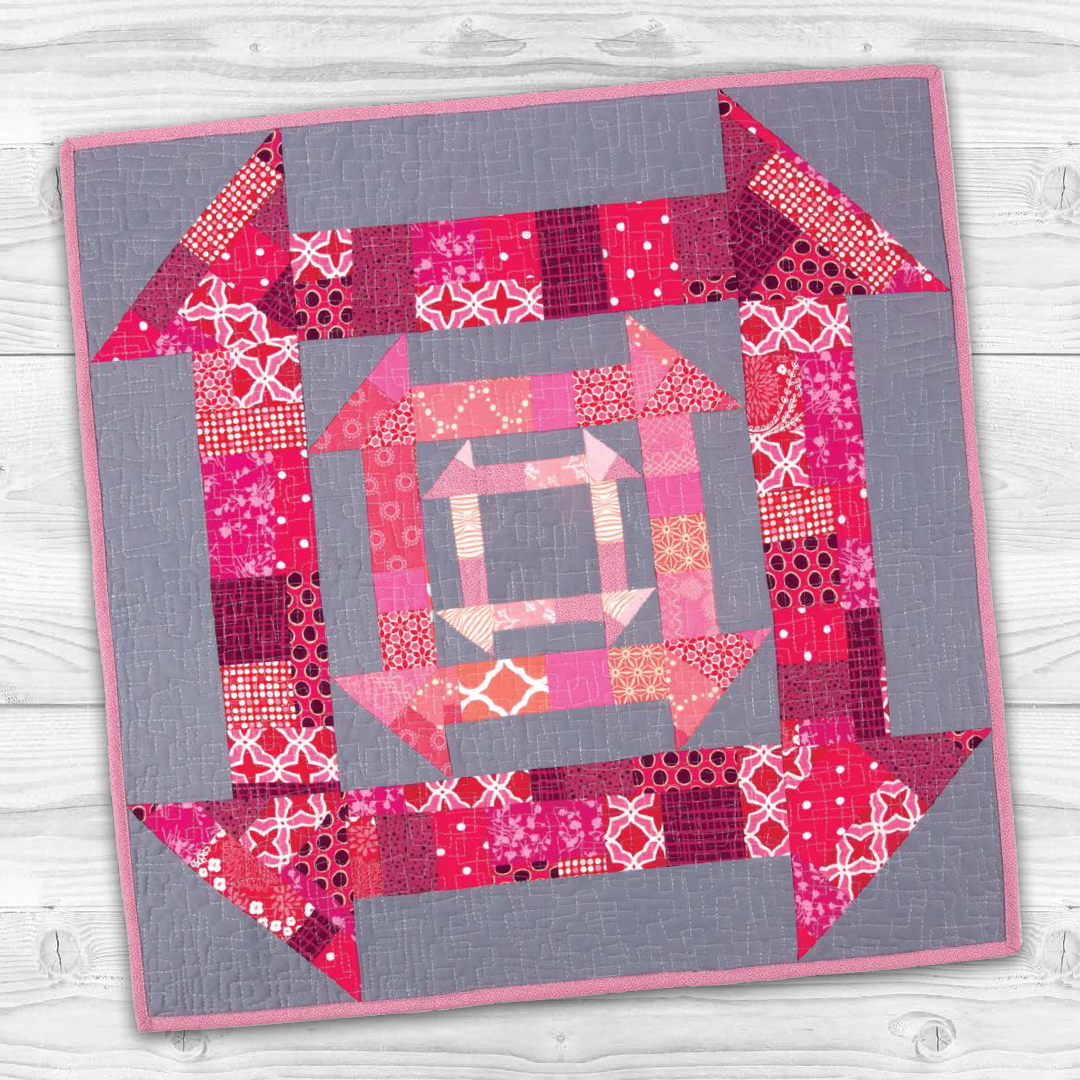 Churn, Churn, Churn
Churn Dash blocks have been around almost as long as quilting itself, and they are one of my favorite quilt blocks. These three Churn Dash blocks are nested together and put a fresh twist on this classic block, making it really special. Three shades of pink steal the show in this quilt. When scraps are divided into light, medium, and dark, the result is almost a 3D effect that gives definition to each Churn Dash—or choose three coordinating colors for a completely different look.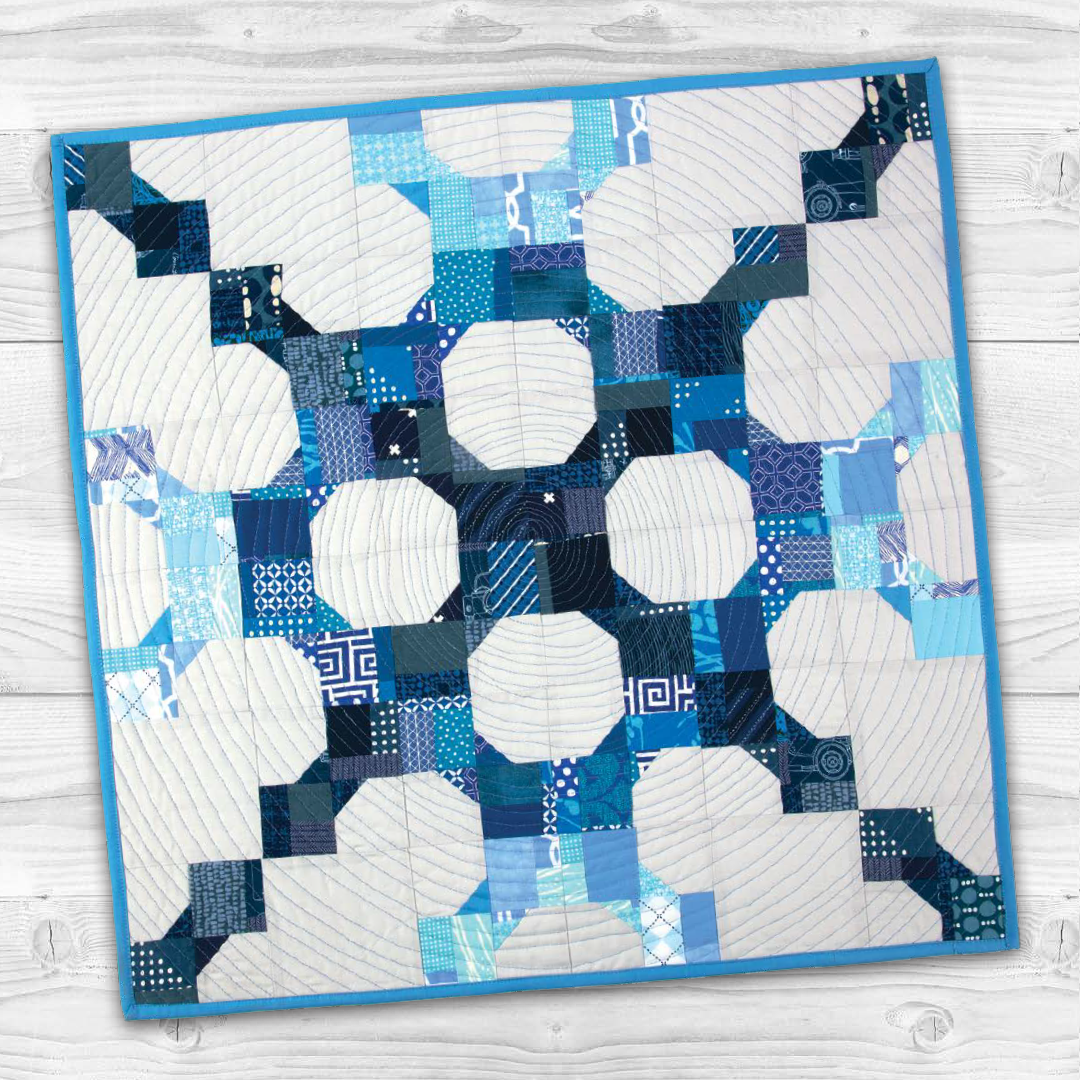 All Dressed Up
The Bowtie block is a traditional quilt block with tons of possibilities. Bowtie blocks are cute on their own, but when put together, they make a fun, rounded shape. Just a little bit of negative space added to these blocks makes All Dressed Up much more interesting than a Bowtie quilt with a traditional layout. Sort your scraps into dark, medium, and light to achieve the color gradient effect, which gives this quilt dimension. The smoky gray background fabric shows off all these blues beautifully.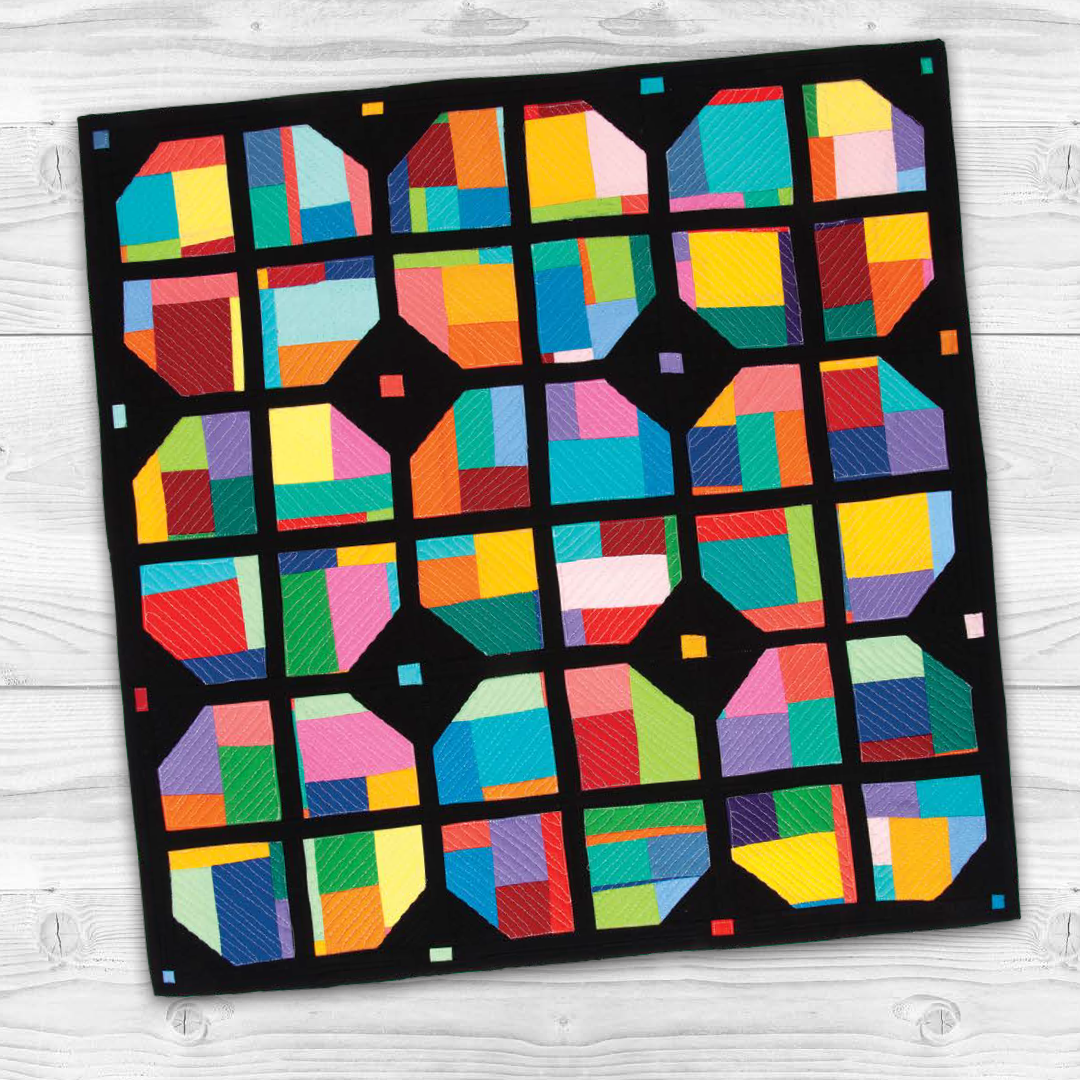 Chapel Window
Many cathedrals and churches are known for their beautiful stained glass, with its intricate, awe-inspiring detail work. When I make scrap quilts, I often neglect my solid scraps. I do mix a few of them in with my prints, but I always have a lot of solids left over, and this quilt is a great home for them. If you're not a big fan of solid fabrics, try tonal, near-solid colors, which will work equally well.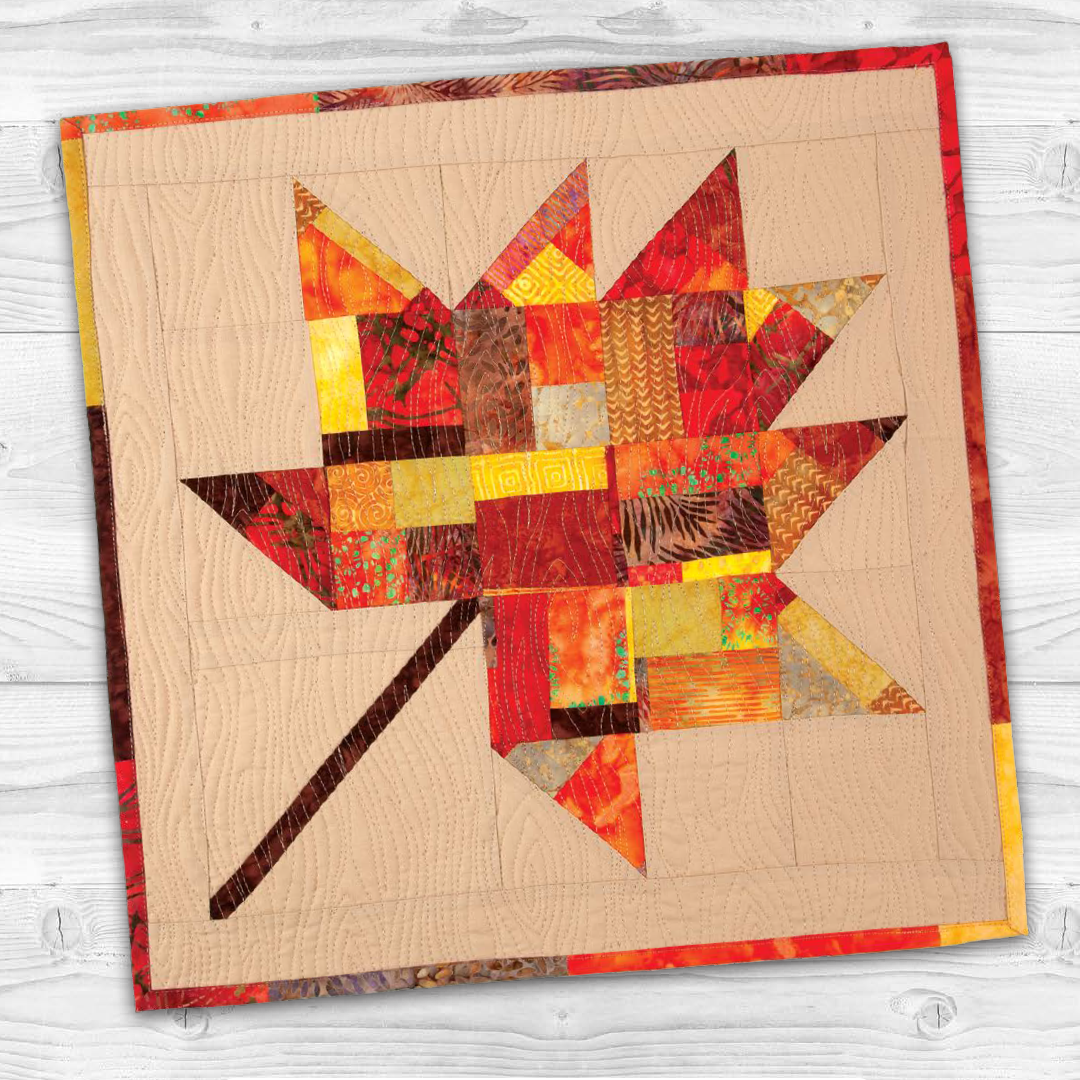 Fall Foliage
The bold maple leaf in this quilt captures all the feelings and charm of autumn, and it makes me want to take a drive to see the colorful foliage. Batik fabrics are dyed with a special process that gives them a very distinctive look, almost like a watercolor painting. This quilt uses all batik scraps, which adds an amazing depth of color to the maple leaf. Don't worry if you don't have batik scraps. Any scraps in warm shades of brown, orange, red, and yellow will create an
effect just as beautiful.