Make Stunning New York Beauty Quilts Using One-Pin Method
Elizabeth Martins
Media Contact
Lancaster, PA — New York Beauty quilts were introduced in America the mid-1800s when the textile industry was booming with new fabrics, giving quilters the freedom to explore complex, geometric patchwork designs. Since then, the energetic-looking design—named after the Statue of Liberty's crown—has evolved. But the motif's sharp points and technically challenging curved seams have remained steadfast through the years. To this day, it remains a beloved block and also a topic of interesting quilt history.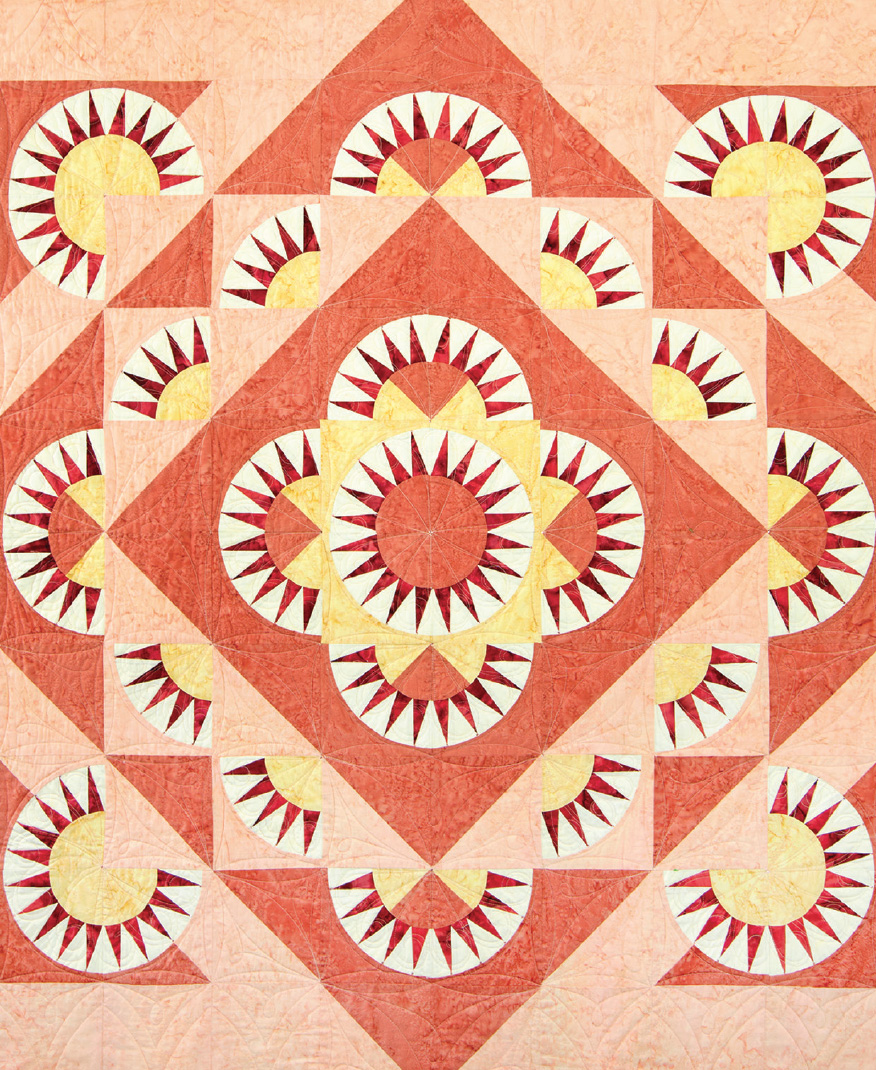 "New York Beauty Quilts Electrified explores creative designs incorporating the traditional block pattern…Linda and Deborah showcase the versatility of the basic New York Beauty block by using it in new ways." ~Bill Volckening, New York Beauty, Quilts from the Volckening Collection
Hahn has teamed up with quilter Deborah G. Stanley on New York Beauty Quilts Electrified. Stanley's specialty is simple, easy-to-complete sewing and quilting projects, especially lap quilts and handbags. This pair, self-described as "besties," are proud to share their time-tested New York Beauty techniques and patterns. You can catch this talented duo walking the show fl oors of a quilt show, teaching a course on New York Beauty blocks, or just in the middle of a disagreement on how to set the room's temperature as they work on their next quilting projects together.
Linda Hahn is currently touring the country sharing her New York Beauty techniques!  Check her out at the following guilds and shows.
March 2019
18-24: A Mountain Quiltfest
Pigeon Forge, TN
April 2019
16-17: Cocheco Quilt Guild
Cocheco. MA
17-20: Merrimack Valley Quilters Guild
Massachussets
May 2019
2-5: North Carolina Quilt Symposium
Ashville, NC
17-19: International Quilt Market
Kansas City, Missouri
June 2019
4-7: Woodlands Quilt Guild
Houston, Texas
5-6: Woodlands Area Quilt Guild
The Woodlands, TX
18-23: Quilt Show Reno
Reno, Nevada
July 2019
8-10: Longmont Quilters Guild
Longmont, CO
29: All Stars Quilt Guild
Jacksonville, FL
September 2019
11-14: Faculty – AQS Quiltweek – Fall Paducah
Paducah, KY
October 2019
1-2: Quilting Guild of the Villages
The Villages, FL
8-9: St Augustine Piecemakers
St Augustine, Florida
9-14: Black Hills Quilters
South Dakota
24-28: Quilt Market
Houston, TX
26-28: International Quilt Market
Houston, TX
November 2019
14: Sunbonnet Sue Quilters Guild
Vero Beach, FL
February 2020
6-7: Kings Point Quilt Club
Sun City Center, Florida
March 2020
5: Quilters of Alachua County Day Guild
Gainsville, FL
May 2020
14-17: Quilt Market
Pittsburgh, PA
August 2020
4-8: AQS Quiltweek
September 2020
25-29: Washington State Quilters – Spokane
Spokane, WA
October 2020
23-26: Quilt Market
Houston, TX
June 2021
15-20: Kansas City Regional Quilt Festival
Kansas City, Missouri
July 2021
15-19: Quilt Wyoming
Wyoming
Linda J. Hahn is a National Quilting Association (NQA) Certifi ed Teacher and former NQA Teacher of the Year. Her bestselling quilting books have won multiple Independent Publishers Book Awards with Gold, Silver and Bronze Medals. Linda was named "New Jersey All Star Quilter" by the State Quilt Guild of New Jersey, and has been nominated three times for Professional Quilter Magazine's Teacher of the Year Award. Linda designs quilt patterns for RJR Fabrics and Clothworks, Inc., and markets her own quilt patterns under the name Frog Hollow Designs. She actively lectures and presents workshops for shows and guilds throughout North America.
About Landauer Publishing
Landauer Publishing is an Imprint of Fox Chapel Publishing, and is managed by people passionate about books and about bringing high-quality inspirational and creative, technique and how-to publications to life.